I'm beyond excited to see the official trailer I created for Bloom Books and E.L. James taking social media by storm this week! 🙃😅 This sexy Fifty Shades collection of books and art cards comes out 11.16.20, and I think you're gonna love what you see! Erika (E.L.) showed the box set and cards to me via Zoom, and this entire collection is absolutely stunning. 🤩📚🔥
Speaking of E.L. James! She is a lovely, talented person, and I thoroughly enjoyed working with her! She's also hysterically funny. I never laughed as hard as I did in our meeting. 😂 Her background is in television (or as the Brits would say, "telly,") as is mine, so we instantly hit it off, practically finishing each others' sentences throughout the creative process.
I am 100% an OG Fifty Shades gal, and now that I've worked directly with one of my favorite authors, I'm even more smitten with Erika, her work, and this series.
Mega shout-out to Pamela Jaffee and Bloom Books for hiring me to work on what was absolutely a #DreamProject. 🥰
See below for more… I hope you love the video!

Watch the Trailer

Project Details
Official book trailer – script writing, production and video editing
Includes special formatting for TikTok/Reels/Stories
Widescreen & vertical formatted videos are perfect for leveraging social ad placement
Software: Adobe After Effects
Screen Shots

About the Collection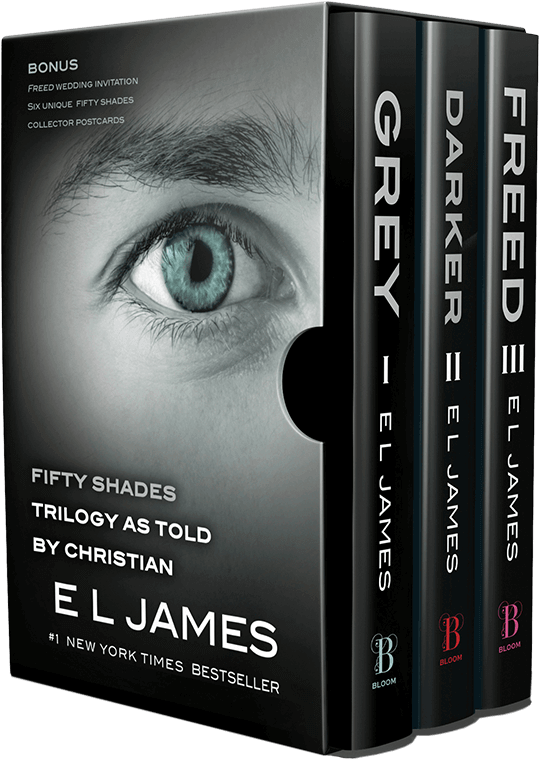 Fifty Shades as Told by Christian Trilogy: Grey, Darker, Freed Box Set
All three novels from Christian's point of view in EL James's #1 New York Times bestselling Fifty Shades of Grey series―now available in one beautiful box set, including unique bonus content of customized postcards and the Freed wedding invitation.
Discover the world of Fifty Shades:
An Instant #1 New York Times Bestseller
More than 165 Million Copies Sold Worldwide
One of 100 Great Reads in the Great American Read
133 Weeks on the New York Times Bestseller List
Christian Grey exercises control in all things; his world is neat, disciplined, and utterly empty―until the day that Anastasia Steele falls into his office, in a tangle of shapely limbs and tumbling brown hair. He tries to forget her, but instead, is swept up in a storm of emotion he cannot comprehend and cannot resist. Unlike any woman he has known before, shy, unworldly Ana seems to see right through him―past the business prodigy and the penthouse lifestyle to Christian's cold, wounded heart.
But Christian knows a relationship with Ana will not be easy, and that being together will pose challenges that neither of them would anticipate. Just when it seems that their strength together will eclipse any obstacle, misfortune, malice, and fate conspire to turn Ana and Christian's deepest fears into reality.
This gorgeous box set includes Grey, Darker, and Freed, the Fifty Shades stories in Christian's point of view, which have sold millions of copies and enchanted readers around the world. Plus, a unique set of six Fifty Shades postcards and the Freed wedding invitation, only available in this box set.
And don't miss The Mister, a modern-day Cinderella love story that will captivate E L James fans and lovers of danger, romance, and intrigue alike!

Let's Work Together!
🌟 Want to see more of my work? Click here to view my portfolio.
🌟 Want to hire me to do a stunning trailer or video project? Click here to fill out my potential client intake form!