It's my pleasure and delight to present the magical book trailer I animated for New York Times bestselling author Julie Berry's middle grade novel, Wishes and Wellingtons!
⚡ On Creating a Magical Book Trailer ⚡
Listen, I love all of my book trailer projects, truly, I do.
And working with Julie and her incredible pool of talent on this one made the experience most magical indeed! I mean… this project almost ruined me, in the best possible way.
How so?
Working with the amazing composer, Benjamin F. Salisbury, and seeing my animations literally come to life through his custom score was a dream. As good as the music is on my go-to stock sites, nothing compares to a living, breathing, wildly talented musician creating original music with my animations. #swoon
Julie's go-to voice over artist, Jane Entwistle, knows how to voice a story. With most voiceover talent booking websites – and even with the five-star national artists I've personally worked with – it's not always easy to find voiceover actors. Voiceover talent are good at selling products. Voice over actors know how to tell a story and treat the script like a character. That's what Jane Entwistle brings to the mix – and her voice is just plain glorious.
Julie's husband, Phil Berry, is a fantastic director, producer and actor, and his input was beyond golden. I became 150% better because of his and Julie's wildly creative, innovative style of writing, producing and directing. They know how to foster an environment that encourages organic, delicious creative collaboration!
Julie Berry, oh Captain our Captain, is a gifted book trailer scriptwriter. Believe it or not, this doesn't come naturally to most authors and publishers, so I often write or heavily edit their scripts. Script writing for short videos is vastly different from writing novels and print marketing copy. You need to tell a very very short story effectively in a tiny window of viewing time. Also, it's not just marketing copy, it's visual storytelling. And Julie really has The Gift. Bonus points: she was so easy to talk to, and so open to ideas, nothing was off the table for any of us, which made this project thrive from day one.
Like I said, I. Got. Spoilt. Can you see why?
✨ A Video with Djinni Sparkle ✨
The final result? See for yourself below! 🤩🌟
I'm also including more about the book below, because I know that you, my magic-seeking, book-loving Unicorns, will love it! It's like Harry Potter, meets Aladdin, meets Charles Dickens. Yeah: you've gotta have this one. 🤓📚⚡
"Jaye was a dream to work with. Responsive, nimble, vividly creative, and wildly talented. I couldn't believe how quickly she pulled everything together, and how beyond delighted I was with the results. I have big plans for future projects with Clever Unicorn." ~Julie Berry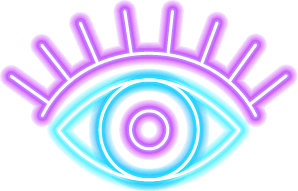 ▶ Watch the Book Trailer for Wishes and Wellingtons ▶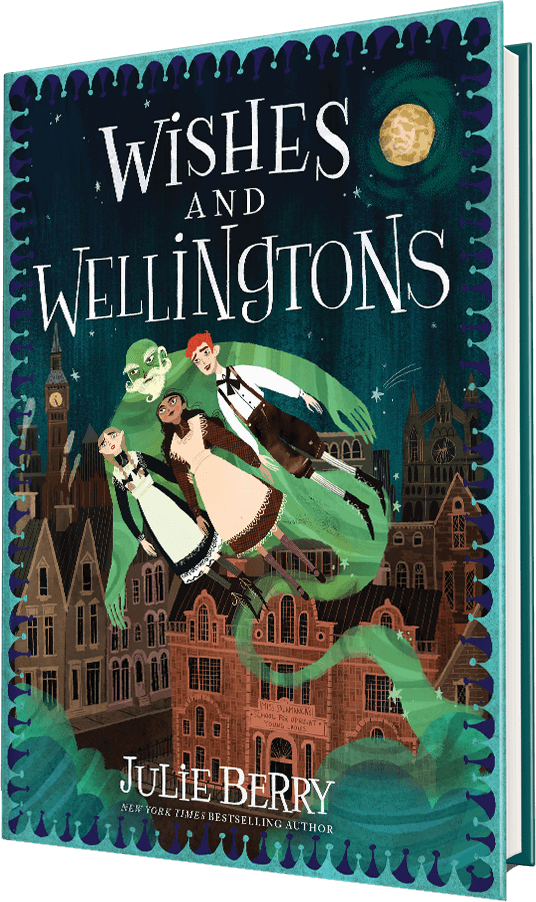 From New York Times bestselling and award-winning author Julie Berry comes a brand new middle-grade fantasy adventure full of humor and heart.
Be careful what you wish for . . .
Maeve Merritt chafes at the rigid rules at her London boarding school for "Upright Young Ladies." When punishment forces her to sort through the trash, she finds a sardine tin that houses a foul-tempered djinni with no intention of submitting to a schoolgirl as his master.
Soon an orphan boy from the charitable home next door, a mysterious tall man in ginger whiskers, a disgruntled school worker, and a take-no-prisoners business tycoon are in hot pursuit of Maeve and her magical discovery. It'll take all of her quick thinking and sass to set matters right. Maeve Merritt is one feisty heroine you won't soon forget.
First published as an Audible Original in 2018
🌟 Acclaim 🌟
"Small details weave together to create an engaging tapestry that becomes more complex and compelling with every page turn… A nostalgic Dickens and Nesbit mashup." – Kirkus
"Berry's (Lovely War) globe-spanning romp balances tongue-in-cheek humor with a heartfelt focus on found family and friendship as the newly minted trio face impossible odds, both mundane and supernatural… Maeve's drive to eschew marriage and propriety in favor of independence conveys a message of female empowerment." – Publishers Weekly
PS: If you loved my work, you should also check out Julie's first fully animated and historically magical book trailer for The Scandalous Sisters of Prickwillow Place! It's not my work, but it definitely inspired my work! ✨🦄💥
PSS: I never knew all these decades that it's spelled djinni. LOL I fully blame growing up on I Dream of Jeannie reruns! 😜